Book Karrie for your church concerts and events
"Karrie has the ability of persuading her audience with a style that reaches all: Logically. Ethically, and Emotionally.  All ages love her music. I have had the opportunity of sharing the stage with her great talent.  Karrie is good.  That is the bottom line."
- Dennis Agajanian, eight time Inspirational Country Music Musician of the Year
 "We had the honor of having Karrie lead a week of family camp in worship. Karrie exceeded my expectations (which were already high) and delivered a heart-felt experience. Karrie is very talented, genuine and a great pleasure to know. After reading the evaluations from our campers I will definitely be inviting her back to do it again. Thanks Karrie!"
-Bryan Bailon
Black Lake Bible Camp, Olympia, Washington 
"Karrie Pavish Anderson is one of the most versatile and accommodating artists I have ever hosted. I am the pastor of a very non-traditional church that attempts to minister the life of Jesus Christ in multiple settings. We are definitely not confined to the church walls. Most of our ministry happens as we do life with people during the week. For instance, I do most of my studying in a downtown coffee shop and most of my close friends there do not come to my church and are not Christians. Karrie did a concert there and through the sharing of stories and songs really touched all who listened. They still talk about her and wear her t-shirts.
She was also very comfortable with a crowd of 50 outside a home of one of our members, doing a set in a downtown pub, and helping with a Down Syndrome Buddy Walk.  I love Karrie. She is super talented and brings a breath of fresh air. Her flexibility not only brought life to many people in multiple venues in our community, but also made the funding for her trip easier for us to handle."
- Pastor Glen Whatley of Pineville, Louisiana
"Having Karrie and her tour assistant Kaylin as our guests for a couple of days was very special to me, my family and our church. They were the first two Alaskan ladies we ever met - and they're wonderful – as is Karrie´s music! The concert she presented at our non-traditional church was extraordinary! The music and the texts and stories touched our hearts! We learned about life in Alaska and heard stories from native Alaskans – and with Karrie that´s all wrapped into very nice music that goes along with a beautiful woman´s expressive voice. Thanks for everything Karrie – and we hope to be able to welcome you again one day!"
-Mirjam from Uffenheim, Germany
Landeskirchlicher Gemeinschaftsverband Uffenheim
"Karrie was the featured entertainer at our Friday Night Live monthly gathering.  She had us out of our seats!  It was fun, entertaining and very meaningful.  The Alaskan lore was especially interesting.  Karrie connects with the audience and well as entertains."  
Dr. Scott Koenigsaecker, Sequim, Washington
Sequim Community Church
Early in the morning at a wonderful day in February 2017 we drove to our church in the Black Forest in Altensteig. The church service starts and Karrie was on stage with my special musican friends Dési and Jane and me. When Karrie sing 'Oceans' with us there was a special moment for us musican because we feel God's presence in every word of this song. And then - really holy moments - Karrie sings 'Climbing' and '10.000 Angels'. These songs are a testimony about God's amazing grace. The Holy Spirit touched so many hearts from our guests. More than 600 people felt God's presence - it was a really wonderful church service in the Black Forest. 
Karrie: Thank you so much - you are a gift from God to me, my Family, my friends and our church - God bless you
-Nobbi M., Black Forest
JMS Church, Altensteig, Germany
"Zuerst hörte ich Karrie Pavish Anderson in einem Konzert im Frühjahr 2017 im Gemeindehaus in Bremen Wasserhorst. Den ca. 25 Zuhörern der kleinen Landgemeinde wurde ein schöner abwechslungsreicher Abend geboten. Eingängige Lieder, Mitmach-Aktionen und Bilder aus Alaska.
In der Pause kamen Karrie und ich ins Gespräch und als Karrie am nächsten Tag den Kapitelsaal sah, stimmte sie sofort zu, in Bremens Innenstadt ein Konzert zu veranstalten. Anfang 2018 wollten wir das ausprobieren. Wir standen in der Planungsphase ständig im E-Mail-Kontakt und am 4. Januar 2018 war es dann so weit: "Corners of 17th & Faith" – Soul aus Alaska mit Karrie Pavish Anderson im Kapitelsaal, Bremen-Innenstadt.
Als Gäste traten Willi Burger (Violine) und Juergen Schoeffel (Percussion) auf und neben "I choose" waren der "Currywurst"-Song und im Zugabenblock "With a little help from my friends" Höhepunkte des Konzerts. Bei den Bildern und dem Videoclip aus Galena kamen die Besucherinnen und Besucher gar nicht mehr aus dem Staunen heraus.
Vor jedem Lied gab Karrie eine Einführung in die Thematik und sie nahm uns so von Bremen mit auf eine Reise nach Galena in Alaska. Das Leben dort äußerlich aber auch die transzendenten, inneren Momente wurde von Karrie eindrucksvoll erzählt. Das Thema "Glaube" – faith stand bei allen Songs im Hintergrund, aber Karrie versteht es, so vom Glauben zu erzählen, dass sie nicht den "Missionshammer" schwingt. "Glauben" ist für sie Vertrauen in den Höhen und Tiefen des Lebens. Das Lob der guten Schöpfung Gottes und die Klage über Abschiede und die dunklen Seiten des Lebens sowie das Thema "Schuld" etwa im Song "Forgive" wurde an diesem Abend auch für die Zuhörenden lebendig und nie aufdringlich nahegebracht. Es hat mir sehr viel Freude ein segensreiches Konzert mit Karrie Pavish Anderson zu erleben und zu veranstalten. Sogar mein 17 jähriger Sohn, normalerweise hört er Hard Rock, war sehr beeindruckt von dem Konzert."
- Pastor Hans-Juergen Jung
Kapitel 8 - Evangelisches Informationszentrum
Bremische Evangelische Kirche (BEK)
Bremen, Deutschland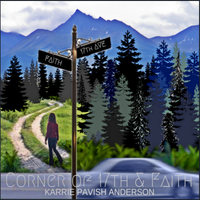 For more information, use the handy little email form below, or email booking@karriepavishanderson.com