Sometimes I want all sparkle. Sometimes I just want comfy hippie. My second  release Twice as Nice offers just that: one set of songs two ways.
Why  did I choose this title "Twice a Nice"?  Yes, one set of songs two ways, I know, I know! Here's some details: one set is called "Bells & Whistles" and was  fully produced with… all the bells & whistles. The other is "Sweet Simplicity" which is an organic, acoustic, down home version of the songs.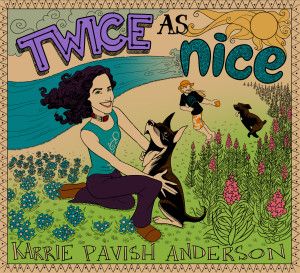 2013 also marked my 10th wedding anniversary with my sweetheart, so it seems fitting that the recording would have themes of love & fun, done two ways.
And lastly, early in 2013, there were a number of tragic deaths in my home of Galena, Alaska. I felt that sadness increase as we lost a loved one in February.  I just wanted to create something that was happy, light. A couple songs came, so I traveled to Los Angeles in April to record, after battling all sorts of colds and flus. At the end of May, just as I embarked on a short tour, a massive flood covered Galena when the Yukon River diverted itself (current, icebergs and all) into the village. Homes above the 100-year flood plane were damaged, a number of homes were destroyed and families were displaced to Fairbanks, Ruby and Anchorage after an evacuation mainly by missionary pilots.
Again, I saw the need for a bit of light amidst such immense challenges.  So though I changed most of my tour into benefit concerts and then flew home to help in recovery, I inched along with the CD project.  Fans joined me in funding "Twice as Nice" and pledged to sponsor over 120 albums to give as gift to each household in Galena this fall.  Hoping the album will bring some smiles to weary faces.
As it turns out, making another album is great, but it's twice as nice when folks come together to help during tragedy. Did you see what I did there?
TaN Credits
Recording Engineers: Paul Tavenner, 
Tero Potila
Executive Mixing & Mastering Engineer: Paul Tavenner at 
Big City Recording Studios
Sweet Simplicity Producer: 
Vardan Ovsepian
Bells & Whistles Producer: Tero Potila
Songs written & sung by: Karrie Pavish Anderson
Background Vocals: Karrie Pavish Anderson, 
Jen Armstrong
Sweet Simplicity BGVs for "High": Karrie Pavish Anderson, Eric Sittner, Chris Woods, Zach Harmon
Bells & Whistles BGVs for "High": Karrie Pavish Anderson, Jen Armstrong, Tero Potilla
Piano: Vardan Ovsepian, Karrie Pavish Anderson
Drums & percussion: Zach Harmon
Guitars: Adam Hawley
Violin, hand flute: 
Chris Woods
Mandolin: Paul Barton
Bass: Eric Sittner
Album art by 
Nate Taylor